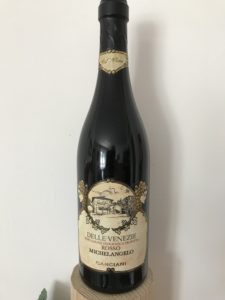 Appellation: Rosso IGT delle Venezie
Grapes: 45% Merlot; 35% Cabernet Sauvignon; 20% Refosco
Production area: Cividale del Friuli (Udine)
Vineyard's elevage system: Double upturned Guyot – 1800 plants\acre (4000 plants/hectar)
Production yield: 4.5 tons/acre (10 tons/hectar)
Vinification system:
Merlot and Cabernet: 36 hrs prefermentative cryomaceration; 5 days pre-clarification; 10-days-fermentation on clear must at 16°C. Refosco: late harvest; traditional skin contact with seeds separation for 10 days. Induced malo-lactic fermentation, stainless steel refining.
Analytical data:
Alcohol by Vol.: 13.84%
Total acidity: 5.23 g\L
Reducing sugar: 4.88 g\L
Volatile Acidity: 0.54 g/L
Tasting notes: deep ruby red with violet reflection; on the nose intense red berries aromas with light spicy notes. On the palate is round and full, velvety and luscious with hints of black and red berries.
Service temperature: 14-16°C (57-60F); open the bottle at least half an hour before use.
Food pairing: easy drinking wine; excellent with red sauced pasta, pizza, soft cheeses, San Daniele or Parma ham. Outstanding during an after dinner reading session.
Packaging:
Heavy BRG Burgundy bottle, 700 g;
50mm diam-like cork
Polilux foil
Necktag
Showed frontlabel; customized backlabel
Heavy, microtriple outer shipper, marked CANCIANI; 6 bottles, with divider.
      Distributed by